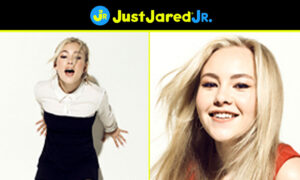 Anna Duboc has just released her new song "Flowers and Graves"! The 14-year-old singer/songwriter's brand new track shows depths of the pain and sadness she experienced during lockdown over the past year. Anna draws influence from other artists like Billie Eilish, Conan Grey, Joji, Girl in Red, and Olivia Rodriquez. In fact, the "Flowers and Graves" music video was directed by Megan Thompson, who also directed Billie's "Ocean Eyes" music video! Anna is also quite the multi-talented musician as well. All of her upcoming songs are not only written by her, but they are also composed, arranged and produced by her. Check out "Flowers and Graves" video below, and download the track HERE. Plus, keep scrolling to learn 10 Fun Facts about Anna Duboc!
Anna Duboc – 10 Fun Facts
1. I've been lead in 21 musicals.
2. I study Mandarin in school.
3. I am afraid of bees.
4. I hate coconut.
5. Could live off of Taco Bell.
6. I was born with jet black hair that turned blond.
7. I love reading. I read many books like "Dr. Jekyll and Mr. Hyde" and "Diary of Anne Frank" in 1st grade. I read all "Divergent" series and "Gone" series in 2nd grade.
8. I order at Starbucks under "Kate" so they don't pronounce my name Ay-na instead of AH-na.
9. I have watched all 15 seasons of Criminal Minds in 3 months.
10. If I weren't doing music, I would want to be in the FBI as a Behavioral Analyst when I am older.